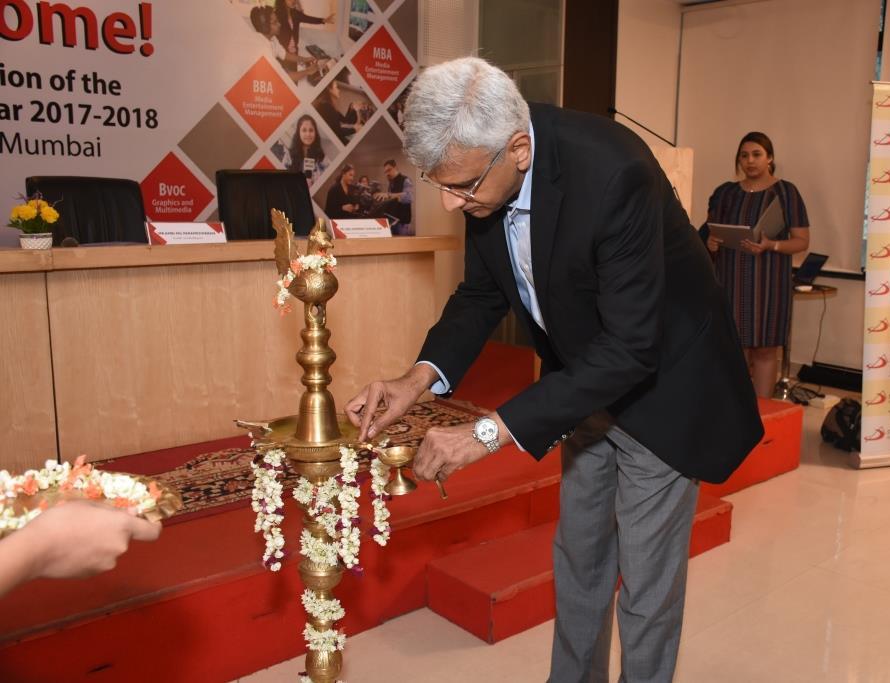 "It is more important to know the people with whom you work than the work itself," said Ambi Parmeswaran, delivering the keynote address at the inauguration of the Academic Year 2017-18, St Pauls Institute of Communication Education, Mumbai, on Wednesday, 19 July 2017. The inaugural ceremony started with the dignitaries Chief Guest Mr. Ambi Parmeswaran, Fr Devasia, DGA, Fr Dominic Savio D'silva, Director of SPICE, Ms. Margaret Da Costa, the course director of Advertising and IMC, and the student representative lighting the traditional lamp.
A video of 'Where the mind is without fear' by Rabindranath Tagore was shown followed by a prayer session by Fr Palvendran. An insight of what happens at SPICE was shown through a promotional documentary. The Director, Fr D'Silva, welcomed the students and the gathering, highlighting the importance of being ethical in media profession. This was followed by Fr. Devasia who spoke about Pauline Communication Mission and its activities across the world, citing the writings of Bl. James Alberione, the Founder of the Pauline Family.
Moving forward, Margaret Da Costa introduced the Chief Guest, Ambi Parmeswaran, Founder, brand-building.com. In his address, Parmeswaran presented five key points touching his own academic and career experience and personal growth in the advertising industry. He called on the students to learn about many things but to be specialized in one field.
Fr Renold Pascal, the Asst. Director, proposed the vote of thanks, recalling all faculty, staff and students with a grateful heart. The presence of Fr Jose Pottayil and Br Luigi, the General Councillors, added colour and joy to the ceremony. The well-attended program by students fraternity and parents manifests the steady growth of SPICE. The ceremony concluded with the national anthem and refreshments for the audience.
?
comments