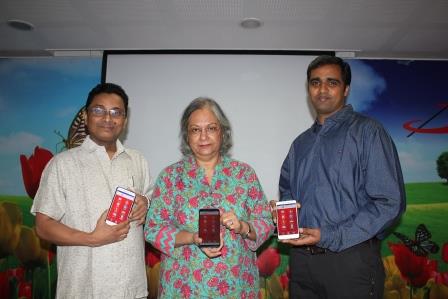 26th February 2018- Today, we officially launched our institute App' STPAULSICE', giving students and their parents easy access to all information regarding media education programmes. The App includes news and events updates, programme detail with course syllabus, amongst other information, to enhance our outreach to our student community.
Fr (Dr) Dominic D'Silva, SSP, Director at St Pauls Institute of Communication Education, said "I am so pleased we can now offer this App to our students. The philosophy of media education is our mission, as we want to enrich human value in areas of communication and technology. The App is an example of how we want to extend our outreach with the student community, through modern technology and latest means of communication."
Fr Joby Mathew, SSP, the General Editor, St Pauls/BYB, the Guest of Honour, inaugurated the programme and officially released the App. He spoke to the student and staff groups in attendance, advising them on the critical aspects of building personal connections and communication with audiences, at the same time, how to make use of advanced technology to reach out to many. Case in point- the App, which was released today.
Fr Sebastian Thomas, SSP, Director General of Apostolate spoke to the audience about the upcoming exclusive STUDENTS LOGIN SECTION, which will give our students more specific performance related information, to help them during their time, here at St Pauls. This login will provide students classroom updates, attendance, timetables and other notices, working like a notice board in the palm of your hand'.
Fr Francis Xavier, SSP, the Asst. Director led the launch programme.
A big thank you to the management team for expediting this App for the institute, Prasanna and his team from our technology partners who worked at creating this App, our staff for their insights, reviews and incorporating suggestions, while creating the App and the content.
I hope you use the App frequently for any information you seek regarding the institute.
The STPAULSICE App, available exclusively and free to all our students, can be used on Android devices. Look out for STPAULSICE on GOOGLE PLAYSTORE. A version for the iOS App store will also be made available soon.
comments