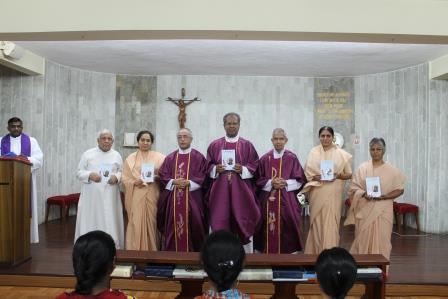 "Fr Mauro had simple ideas and positive outlook towards human life which made him great in his writings," said Fr Varghese Gnalian, the Provincial Superior, while preaching the homily at the memorial Mass for late Fr Giuseppe Mauro Ferrero, on Saturday, 3rd March 2018.
The Provincial team together with the entire community of Mumbai had organised this special liturgical service to thank God wholeheartedly for the gift of Fr Mauro to the Church, to the Pauline Family, and to the Society of St Paul, specially to the Indian Province.
After the Eucharist, Fr Varghese released the souvenir dedicated to Fr Mauro titled 'J Maurus: Writer with A Mission' and handed the first copies to Sr Arul Mary, the Provincial Superior, Daughters of St Paul, Sr Nirmalani, the Provincial Superior, Apostolic Carmel Sisters, and to Sr Amitha, Provincial Councillor, PDDM. The souvenir is a collection of biography, memories, anecdotes and personal experiences of those who have lived with him, those who have known him, and others who have yet to meet him.
Members of Pauline Family, Religious sisters, Pauline cooperators, friends and admirers of Fr Mauro gave in large number to grace the occasion. The event came to an end with a fellowship meal.
Fr Mauro was born on 14th April 1924 and entered the Society of St Paul in the year 1936. He made his first Profession on 8th September 1943 and his perpetual profession exactly on the same day after four years in 1947. He was ordained a Priest in 1950 and arrived in India 1951. For St Pauls Indian Province, He was a great visionary and missionary for the Pauline Apostolate. He has more than 120 titles to his credit.
The year 2013 marked the successful culmination of his writing mission when he was named 'Man of the year' by the American Biographical institute, a prestigious award that recognizes those of prominent personalities in the international public opinion.
May Don Mauro join the company of our Founder Blessed Alberione and all other Paulines in heaven! May he continue to inspire and dare us to dream differently in our media apostolate!
comments