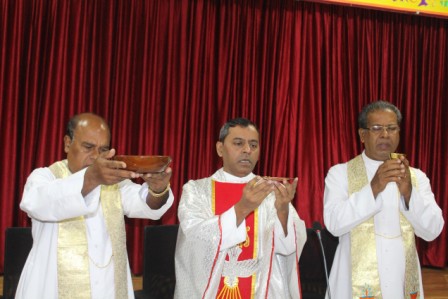 On the solemnity of All Saints, Fr Francis Dalmet presided over the Eucharist and preached a homily highlighting the importance of personal sanctification amidst different cultures. This day also marks Fr Francis' birthday and Fr Varghese Gnalian, the Provincial Superior, wished on behalf of the Capitulars Fr Francis God's blessings and invited the assembly to pray for him and for his dear ones.
Fr Herman Dungdung led the opening prayer and the first session of the day commenced with the presentation of the previous day's minutes by the actuaries. Then, the floor was opened to discuss the topic: Community Life and Spirituality with its corresponding Priorities and Operative Guidelines. The assembly elected Fr Alfonso Elengikal and Fr Thomas Mangamthanath as members of the drafting committee of the Chapter Document.
Moving ahead, Secretary introduced the topic for the day: Vocation Promotion, Formation and Ongoing Formation. Later, he invited Fr Celso, the General Councillor, for a short input session on the topic of the day. Fr Celso explained the significance of Renewal, Pauline Brotherhood, the Decisive role of SPICE (media study centre) in Pauline Formation programme, Formation for mission, etc.
In the afternoon, members met in their respective groups to discuss the assigned topic of the day. The secretaries of various groups presented the outcome of the group discussions in a format of Priorities with corresponding Operative Guidelines.
In the evening, the members came together for the Eucharistic Visit animated by Fr Shaiju.
comments