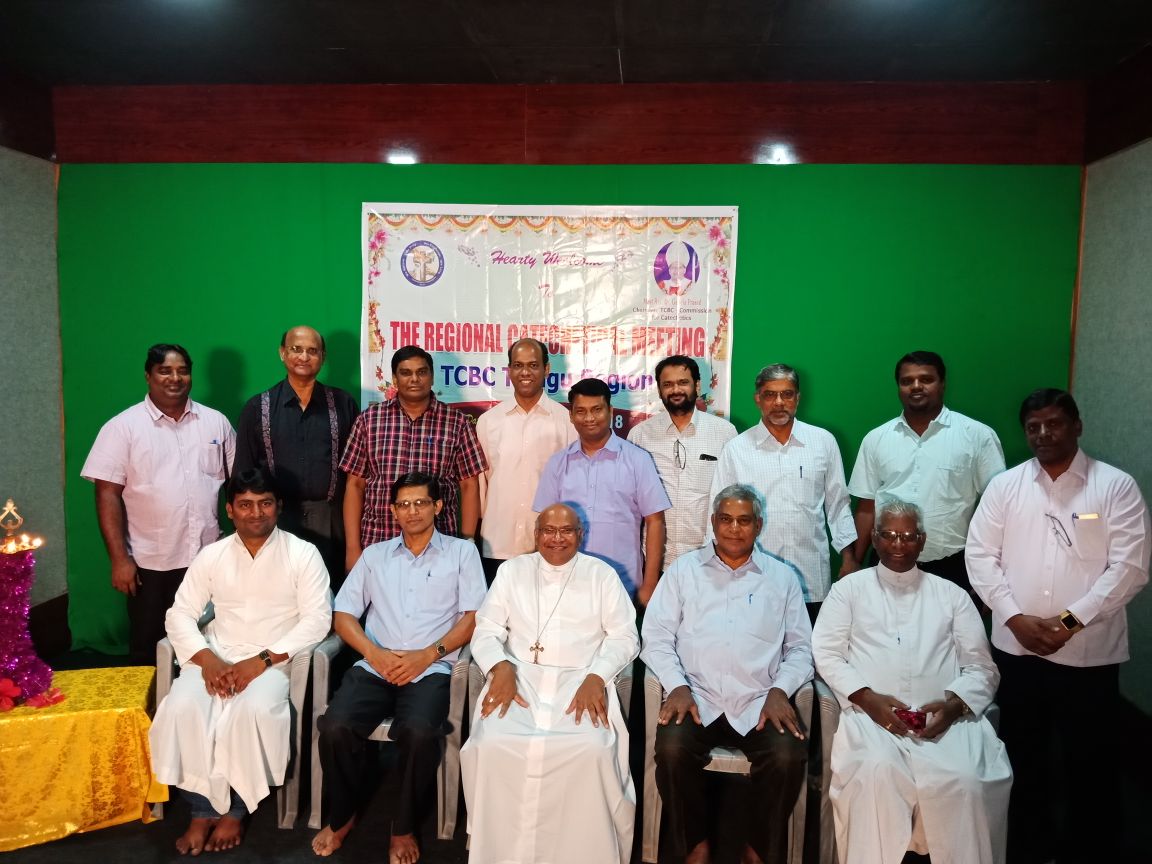 The meeting of Telugu Catholic Bishops' Conference (TCBC) of Catechetical Commission for Telugu Region was held at the Pastoral Centre, Vijayawada on 14 February 2018. Rt Rev. Gallela Prasad, the Bishop of Kadapa, and the Chairman of the Catechetical Commission for TCBC, in his address to the Directors of Pastoral Centers of the Telugu region exhorted the need to impart profound catechetical knowledge to the children from class 1 to 10 in all schools and Parishes. He made it mandatory that the Directors use the new Catechism series in their respective dioceses. He expressed his satisfaction and thanked ST PAULS, Mumbai, especially Fr David Pushpa Raj ssp, for taking up the Diocese's unattended challenge (for 9 years) to bring out a Catechism and Moral Science series in an international standard, both in English and Telugu. Fr Saji Antony, the director of Jeevandhara Publications, and Fr David Pushpa Raj the coordinator of the Catechism series were present for the meeting. Rt Rev. Gallela Prasad released the Catechism series and gave first copies to Fr Dumingo, the General Secretary of the National Catechetical Commission (CBCI) and to Fr Prasad, the Secretary of the Catechetical commission of TCBC.
Fr David in his address thanked Bishop Gallela Prasad, the Chairman of the Catechetical Commission, and TCBC for giving ST PAULS an opportunity to partner in the mission of TCBC and for the trust the Commission had on ST PAULS.
After the launch, Fr Dumingo, the General Secretary of the National Catechetical Commission, under CBCI, expressed his personal appreciation and satisfaction for the efforts ST PAULS has put in for the Catechism series. He cordially invited ST PAULS to be part of the Catechetical Executive Body of India, in order to help them in their Catechetical work.
All pastoral centre Directors too highly appreciated the final outcome of the books and have promised to send their respective orders for the books at the earliest. The meeting was concluded with a grand lunch in honour of the achievement. Post lunch some of the Directors visited our local formation community at Enikepadu for a high tea.
comments